Dic
12
mer
2018
9th LESSEDRA INTERNATIONAL PAINTING & MIXED MEDIA COMPETITION 2018-2019 Sofia Bulgaria

@ LESSEDRA Gallery
Dic 12 2018@5:00 PM–Feb 26 2019@1:00 AM
Yoshinori Akazawa's drawing works are shown in this exhibition
9th LESSEDRA INTERNATIONAL PAINTING & MIXED MEDIA COMPETITION
Painting, Drawing, Collage, Watercolor, Photographs, Digital, Mixed Media…
An international annual competition with the premise to show the variety of art medium. The aim is to gather and to exhibit contemporary works from all over the world and to contribute to the contacts and the exchange between artists, art lovers and collectors and to stimulate the research into Painting, Drawing, Collage, Watercolor, Photography…
With a Respect to the Quality of Art, not to the Size of Art!
第9回 レッセドラ国際 ペインティング&ミクストメディア コンペティション 2018-2019 ソフィア ブルガリア

@ LESSEDRA Gallery
Dic 12 2018@5:00 PM–Feb 26 2019@1:00 AM
アカザワヨシノリ(Yoshinori Akazawa) は平面のドローイング作品(小品)をこの展覧会に出品しています。
第9回 レッセドラ国際 ペインティング&ミクストメディア コンペティション 2018-2019 世界各地からの現代アート作品を展示し芸術家 芸術愛好家やコレクター間の交流をはかることに貢献するとともに ペインティング、ドローイング、コラージュ、水彩や写真などへの研究を促進することを目的とする。 レッセドラギャラリーと現代アートプロジェクト (LESSEDRA Gallery & Contemporary Art Projects)
Gen
18
ven
2019
YOSHINORI AKAZAWA Contemporary Ceramic Exhibition 'Thinker In Space'
Gen 18@10:00 AM–Gen 30@6:00 PM
YOSHINORI AKAZAWA
CONTEMPORARY CERAMIC ART EXHIBITION
THINKER IN SPACE
The artist, AKAZAWA Yoshinori, transcends genres, being active in ceramics, nihonga-style painting and photography, both here in Japan and abroad. Born into a family of Kyōyaki potters famous for its Kōchi-ware (Kōchi-yaki, Cochin-ware) ceramics, he discovered an affinity existed between the nihonga-style of painting that he studied in university, the beauty of mosaic patterns and the materials used in Kōchi-ware, so he set about combining these various elements in his creative works.
This exhibition will feature works that have returned to Japan from open exhibitions abroad. In other words, it will provide the opportunity to see works selected by various people possessing differing aesthetics and values, all in one place. These works, which are a result of combining traditional Kōchi-ware techniques with inspiration acquired overseas, allow us a glimpse of the artist, others, the passage of time and the relationships that exist between different countries. The artist describes this sense, which surpasses time and space, as being that of a 'thinker in space', and we have used this as the title for the exhibition. We hope that this exhibition will serve to bring further innovation to the field of Kyōyaki ceramics.
SHIMOMURA Kazuma
Curator
Kyoto Ceramic Center
Thanks to
Critical text:
Rolando Giovannini (Milan and Faenza, Italy)
Roser Vilardell Tarruella (Barcelona, Spain)
YOSHINORI AKAZAWA CV
1971 born, live in Kyoto
1995 BFA / Kyoto City University of Arts fine arts, Nihonga (Japanese style painting)
2002 Nihonga painting solo exhibiton 'Hana-no-Ame (Flower Shower)' Sakaimachi Garow (Kyoto, Japan)
2009-2010 '15 Fusumae (painting for Fusuma) donation as requiem for Nobunaga Oda' Soken-ji temple,  The ruins of Azuchi Castle (Azuchi / Shiga, Japan)
2016 'MADE IN JAPAN' MIC International Museum of Ceramics in Faenza, Faenza, Italy
2017 'Honorable mention' & 'Prize of Targa Argent' 39th International Ceramic Art Competition of Gualdo Tadino City (Gualdo Tadino, Perugia, Italy)
2018 Ceramic solo exhibition 'JAPAN' Nihombashi Mitsukoshi main store Art square (Tokyo, Japan)
赤沢嘉則 陶展 空の思考

@ 京都陶磁器会館
Gen 18@10:00 AM–Gen 30@6:00 PM
赤沢嘉則 陶展 ~空の思考~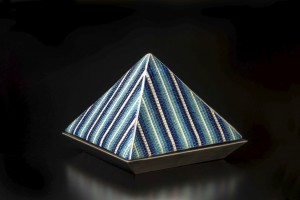 赤沢嘉則さんは、陶芸・日本画・写真と様々なジャンルを超えて、国内外で活動される美術家です。 交趾で名高い窯元にお生まれになり、大学で学ばれた日本画や、モザイクの美しさとその素材の交趾との親和性の発見など、様々な要素をもとに制作されてきました。
本展は、海外の国際公募展において展示された作品の里帰り展です。つまり様々な感性や価値観を持った人々に選ばれた作品が一堂に展示されます。伝統的な交趾の技術と海外で受けたインスピレーションにより生まれた作品、そして、それらを通して感じられる作者と他者、時代の流れや国々の関係など、その時空を超えた、彼の「空の思考」の世界をご鑑賞くださいませ。
赤沢嘉則(あかざわ・よしのり) 略歴
1971 生まれ 現在 京都市在住
1994 京都市立芸術大学 美術学部 卒業
2002 京都 堺町画廊にて日本画個展「華の雨」
2009-10 安土城跡 総見寺 襖絵15面「老桜」「相生」制作 奉納
2016 「Made in Japan メイド・イン・ジャパン」
ファエンツァ国際陶芸美術館所蔵 20世紀の日本陶芸展 (イタリア)
2017 「第39回グアルド・タディーノ国際陶芸展」にて銀賞受賞 (イタリア)
2018 赤沢嘉則 陶展「JAPAN (ジャパン)」日本橋三越本店 (東京)